22 Apr

The Funk Parade Festival: The Magic of Music!
Join the Funk Parade Festival in Historic U. Street Corridor!
The DC Funk Parade is returning and soon rebranding in 2023 as the DC Funk Festival with the help of sponsors like Chuck Levin's Washington Music Center, TMobile, Tito's Handmade Vodka, the Ben's Chili Bowl Foundation, Meridian Public Charter School, District Bridges, ANC1B, and more! From April 30th to May 7th, come enjoy The MusicianShip's annual celebration of 'Black Broadway' and the unifying community that adorns the historic U. St. Corridor! 
This year, The MusicianShip has set the festival's theme as "The Magic of Music!" – signifying the resilience and unwavering impact that music has had on the historic U. St. corridor and our current times powering through the Covid-19 pandemic. Our 2022 festival art embodies the  Home of Jazz: Congo Square in New Orleans and pays homage to Mardi Gras using aesthetics & artwork designed by Donald Ely of Three Ring Studios.
Once again looking to raise $5K to sustain free Summer Programs for DC Youth, The Funk Parade team is releasing another festival beer; this year collaborating with Sankofa Beer & Urban Garden Brewing on a Blonde Wheat Ale with Cara Cara oranges brewed by Right Proper Brewing at their T. St. Shaw location. To kick off celebrations for Funk Parade, join our team and Right Proper on Saturday, April 30th from 12-4PM for the Beer Release Event, just one week before the festival!
On May 4th, join Briana Thomas (Author of Black Broadway in Washington DC) & Off The Mall Tours for a FREE Community Mural Walk (Registration Required) sponsored by Ben's Chili Bowl Foundation and the National Endowment for the Arts.  
After producing a hybrid festival last year, this year the DC Funk Parade will not feature a traditional parade but will host FREE music activations on May 7th, 2022 from 11 am – 5 pm at (3) historic corridor sites: The African-American Civil War Memorial (Vermont & U. St. NW), Lee's Flower Shop (11th & U. St. NW) & The Reeves Center (14th & U. St. NW).  
During the Main Festival on May 7th, music lovers can bounce between 3 music activation sites that will feature live, outdoor music from 11 am – 5 pm. Right Proper Brewing will also be open during the festival & serving food and the Funk Parade beer all day. In addition to hosting a contest that will break (4) New Acts onto the Funk Parade Mainstage, festival-goers can also expect to hear from the likes of Micah Robinson, Autumn LaBella, Cramer, Rue Brown, CznFX, YAJ, Hung Tao Choy Mei, Izis La Enferma, DJ Zo, Roquois, Night Train 357, Uncle Mary, Nia Monaé, Skip Step, Naptown Brass Band and Critical Condition Band (CCB).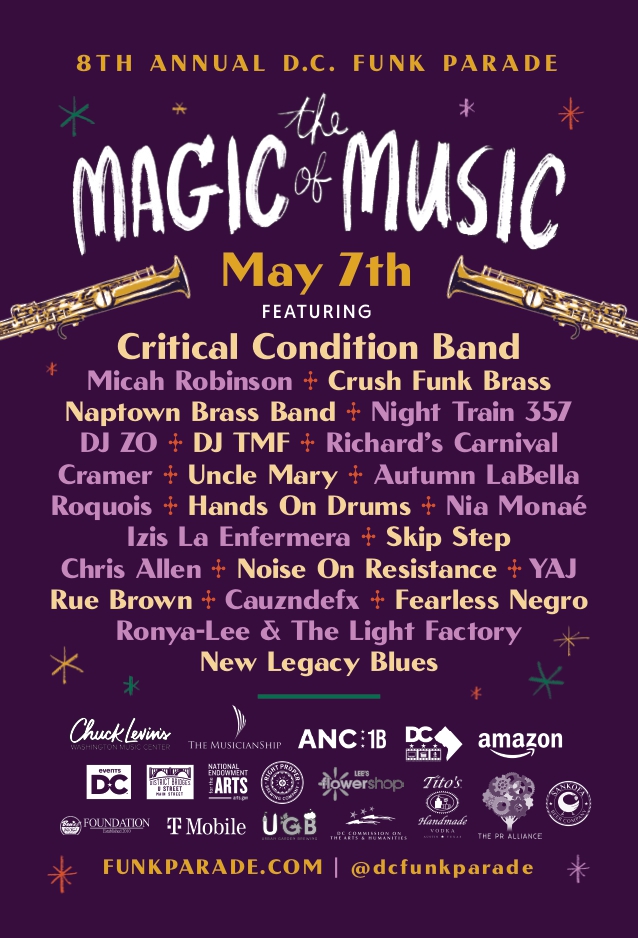 "Our goal over the course of the next two years is to Aspire, Amplify and Achieve. Following the unprecedented success of this year's Wammie Awards, we are looking forward to bringing back to the community in person the family friendly DC Funk Parade. While the format will be modified this year due to restrictions brought about by the pandemic, it will continue to celebrate one of The Districts most prized music genres, its musicians and related cultural experiences." – Eric Liley, The MusicianShip Executive Director & CEO
More information can be found at FunkParade.com or follow us social @dcfunkparade. Be a part of the Volunteer Festival Team! (Photographers Needed!)
2022 Funk Parade Sponsors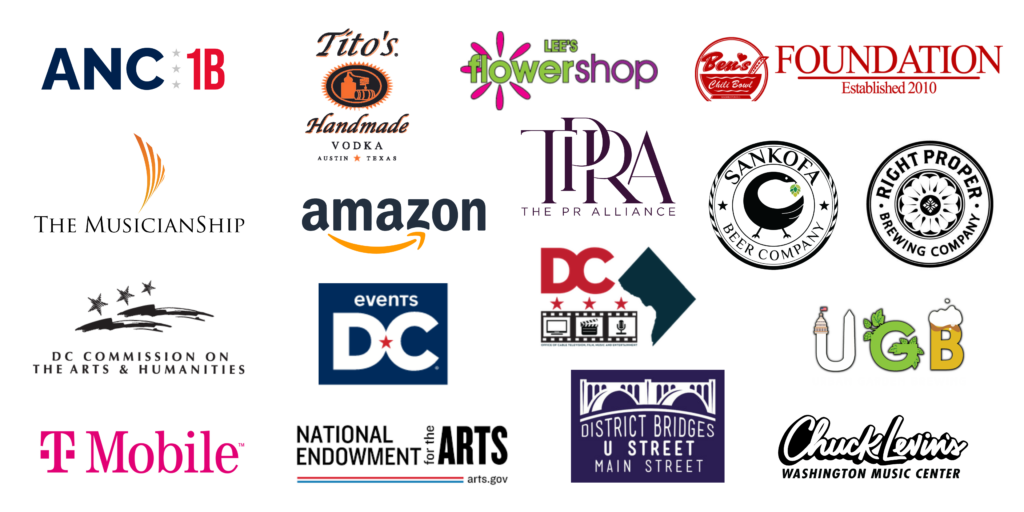 ---
Funk Parade programming is supported by The MusicianShip, a D.C.-based nonprofit that is focused on changing lives with music. Proceeds from the Funk Parade help support The MusicianShip's free-of-charge music programs that serve over 1600 youth and continue to be a resource for local D.C. artists and musicians. In addition to Funk Parade, The MusicianShip is the home of the Wammie Awards and The Washington Youth Choir.