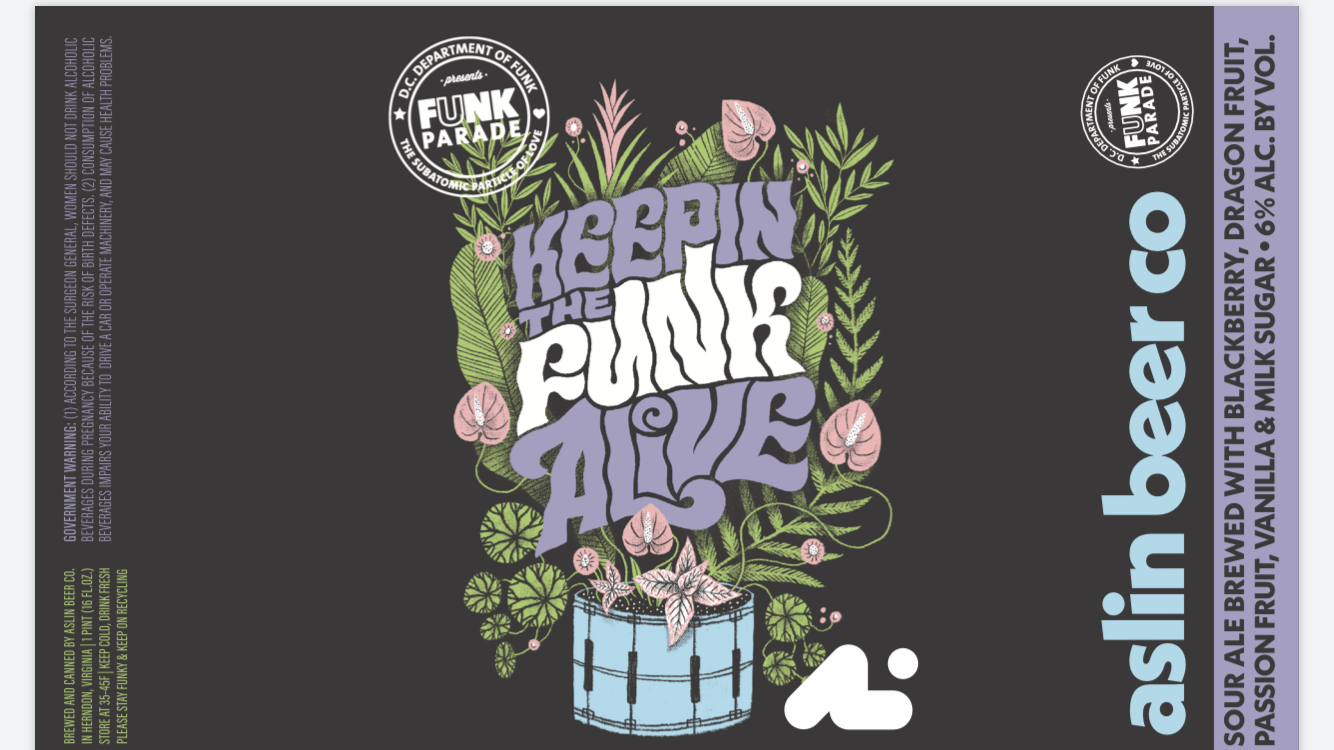 15 Apr

FUNK PARADE & ASLIN BEER CO. CREATE FIRST EVER FUNK PARADE BEER Annual Parade Releases "Keepin The Funk Alive" Sour Ale In Time for Festival

WASHINGTON, DC [April 15, 2019] – Funk Parade is proud to announce that Aslin Beer Co. will be releasing "Keepin The Funk Alive" a Funk Parade-themed beer for the 2019 Festival happening on Saturday, May 11th.

"Keepin the Funk Alive" will be a special Sour Ale brewed with Dragon Fruit, Passion Fruit, Blackberry, Milk Sugar and Vanilla. "The beer will be light, sweet and slightly tart, which should complement the weather in May," says Andrew Kelley, Aslin Beer Co. Co-founder.

Aslin will be releasing the cans of the beer for purchase at their warehouse and facility located at 257 Sunset Park Dr, Herndon VA 20170 on May 4, 2019.  Aslin will also be donating a portion of the proceeds from the sale of the cans to support The MusicianShip, the new stewards of the Funk Parade Festival.

"At Aslin we always strive to look for new environments for our customers to be able to try our beer. After the Funk Parade team reached out to us, we thought it was a no brainer to partner and brew a beer with a team that is so involved in D.C.'s art culture," says Andrew Kelley, Aslin Beer Co. Co-founder.

For those of you who won't be driving out to Herndon, though you are missing out if you don't, Aslin is working with official Funk Parade venues, restaurants, and bars throughout the U Street corridor and DC to have kegs of the beer on tap the weekend of the Festival.  Establishments serving "Keepin The Funk Alive" are also promising to donate a dollar from each sale of the beer to support The MusicianShip.

"We are grateful to Aslin Beer Co. for supporting our mission and look forward to creating a fun, safe day for all," says Jeffery Tribble Jr., Executive Director, The MusicianShip.

If you are a restaurant, bar, or music venue in the district and would like to have "Keepin the Funk Alive" on tap the weekend of May 11th please shoot an email to funk@themusicianship.org and we will connect you with the brewers.  Funk Parade will be releasing a full list of establishments serving the beer around the district in the next couple of weeks.

For press inquiries, please contact Mercy Chikowore at press@themusicianship.org, 803.347.6905.

About The MusicianShip

The MusicianShip was founded in 2009 by a passionate group of music enthusiasts who view music as a vehicle to change lives. Since its founding, it has garnered the support of internationally recognized musicians, and constantly works to engage people who are willing to serve a dual role as not only music educators, but also as mentors. The MusicianShip seeks to alter the life trajectory of our program participants, thereby creating a more vibrant, educated, empowered, and well-intentioned world. Its after-school and summer programs have reached thousands of DC youth. It has continued to grow its presence in the city with its recent acquisitions of the Washington Youth Choir and the Washington Area Music Awards (The Wammies). For more information, please visit https://TheMusicianShip.org, follow @TheMusicianShip on Twitter, and Like The MusicianShip on Facebook at: https://www.facebook.com/TheMusicianShip.

About Funk Parade

Funk Parade is a one of a kind day fair, parade and music festival in Washington DC's U Street Neighborhood happening on Saturday May 11th.  Funk Parade celebrates DC's vibrant music and arts culture, and the Spirit of Funk that brings us all together. From our first year in 2014 to now, hundreds of thousands of Washingtonians from all corners of the District have come together for the Funk Parade. We are excited for you to grow the tradition of #KeepintheFunkAlive

About Aslin Beer Co.

Aslin Beer Company is a northern Virginia, DC suburb, microbrewery suited to provide great beverages and a wide variety, even if it is a "to-go" only format. Since the inception of Aslin Beer Company, Andrew, Kai, & Richard wanted to create a company that they all would want to work for. They have strived to create a culture that celebrates beer with a passion and depth of knowledge that can't help but be contagious to our customers. We realize that our beer is not the only product we provide, but a long lasting relationship between our company, employees, and customers. Aslin Beer Company doesn't take itself too seriously. Any why should we? Beer is fun. It's for kicking back: vacations, parties, hangouts. Along with the fun and humorous atmosphere, our founders' have a passion and dedication to create a good product and have a commitment to provide the best beer to all passionate beer drinkers alike. Our company crafts only the highest quality ales, lagers and variants that will help redefine American beer culture, re-educate the consumer palate and revive people's passion, while using the highest quality ingredients from around the world as well as sourced locally.