28 Jul

'The Magic of Music' at the DC Funk Parade Returns!

Washington, DC—July 19, 2022. The DC Funk Parade is BACK in Festival format on Saturday, August 6th, 2022 from 11 AM to 5 PM! The event's producer, The MusicianShip, is eager for all District residents & visitors to usher in the much anticipated in-person return to the U Street corridor amplified by the local music scene and bustling businesses to the rich music history that many refer to as Black Broadway.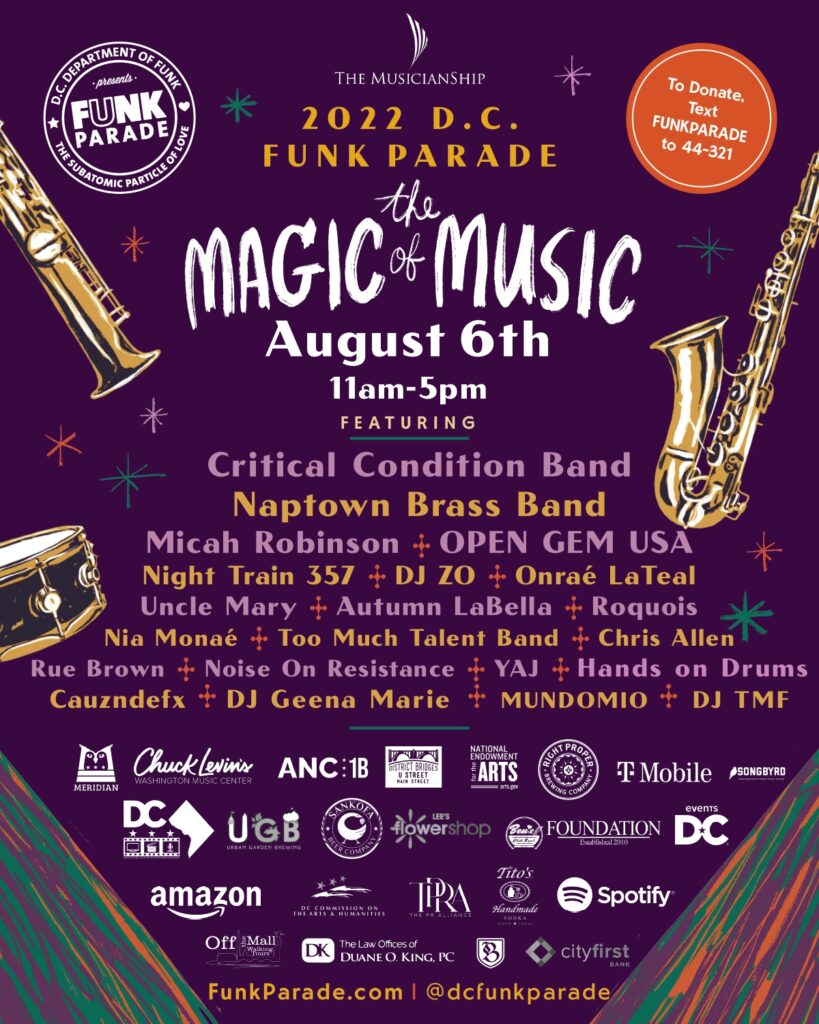 'The Magic of Music' will be an authentic cultural experience that you don't want to miss. Music-lovers of all ages can bounce between four historic U Street Corridor sites from 11 AM – 5 PM: Funk Parade's Main Stage at The African-American Civil War Memorial, the Soul Station at Lee's Flower Shop, the Community Corner at The Reeves Center, and Beats & Brews at Right Proper Brewing Company. The four sites will feature live, outdoor music from the likes of local favorites & rising stars like Autumn LaBella, Roquois, DJ ZO, Uncle Mary, Nia Monaé, Naptown Brass Band, and Critical Condition Band! (View Festival Information).
This year's Funk Parade festival is FREE to the public with a financial goal to raise $5K in donations to support The MusicianShip's well-noted free after-school (OST) youth programming held at designated schools and community centers throughout The District. Funk Parade fans can donate here or text FUNKPARADE to 44-321. 
With the support of sponsors such as Spotify, Events DC, Amazon, TMobile, Chuck Levin's Washington Music Center, Ben's Chili Bowl Foundation, Meridian Public Charter School, District Bridges, and more…This summer celebration underscores the resilience of one of Washington DC's most historic communities and how the magic of music can serve as a unifier in times of joy, adversity, and growth.
"Our educational aspiration, which is steeped in our authentic musical roots and the evolving creative landscape, creates a rebirth of cool that puts Washington, DC in the forefront as a CAPITAL of music excellence and empowerment for all musicians."
– Eric Liley, Executive Director & CEO at The MusicianShip
---
U STREET | FESTIVAL MAP
FUNKTONIANS! CELEBRATE THE MAGIC OF MUSIC at these four sites:


 MAIN STAGE @ African American Civil War Memorial (VERMONT & U ST. NW)
SOUL STATION @ Lee's Flower Shop (11TH & U ST. NW)
COMMUNITY CORNER @ The Reeves Center (14TH & U ST. NW)
BREWS & BEATS @ Right Proper Brewing Co. (624 T ST. NW)
Follow @dcfunkparade on instagram for regular updates and visit FunkParade.com
---
Our 2022 Sponsors
---
Funk Parade programming is supported by The MusicianShip, a D.C.-based nonprofit that is focused on changing lives with music. Proceeds from the Funk Parade help support The MusicianShip's free-of-charge music programs that serve over 1600 youth and continue to be a resource for local D.C. artists and musicians. In addition to Funk Parade, The MusicianShip is the home of the Wammie Awards and The Washington Youth Choir.