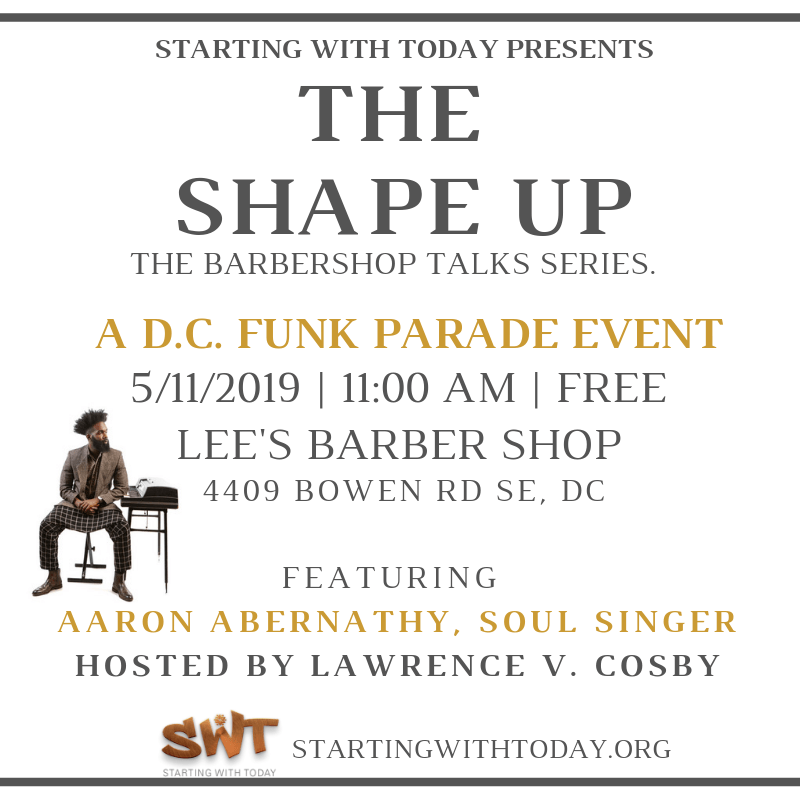 25 Apr

THE SHAPE UP: The Barbershop Talk Series
BRINGING MENTAL HEALTH SESSIONS TO OUR LOCAL BARBERSHOPS
Washington, D.C. – What happens when you put formal and creative therapies in a D.C. barbershop? Magic happens. Starting With Today's The Shape Up: The Barbershop Talk Series is excited to partner with the D.C. Funk Parade for a funky activation led by performing artist Aaron Abernathy and hosted by Lawrence V. Cosby, Esq. This event will take place on Saturday, May 11, 2019 at 11:00 AM at the legendary Lee's Barbershop located at 4409 Bowen Rd SE, Washington, DC 20019.
This Starting With Today's The Shape Up will embrace this year's Funk Parade theme of "Keeping the Funk Alive" by focusing on the healing powers of music. Aaron Abernathy is a DC-based pianist/soul singer who is travelling the globe performing and discussing his latest album Epilogue- an album about restoration after heartbreak.
***
In May 2018, Starting With Today, a Washington, D.C. Metro Area based nonprofit, launched THE SHAPE UP: The Barbershop Talk Series at Lee's Barber Shop in Southeast, Washington, D.C to reduce financial, physical and cultural barriers that prevent Black men from utilizing mental health services. THE SHAPE UP sessions are led by licensed Black male therapists and/or professionals with a curriculum specifically designed for Black men.
Starting With Today, Inc. (SWT) is a charitable 501(c)(3) nonprofit organization, based in the Washington, D.C. Metro Area, with the mission of creating, sustaining, and enhancing the career, mental, and financial wellness of underserved adults by providing customized training and local resources. Through its mission, SWT ignites a fresh start for individuals in various aspects of life by providing succinct, fun, interactive and culturally competent programming.